Premium Quality Carpet Cleaning Paying the Minimum Price
Who does not love the touch of warm woven carpet under their feet when they are relaxing after a long tiring day? Over the time, it will eventually lose its beauty as dirt, and food particles will start gathering all over it. Carpets and rugs are often considered by the birthplace of invisible insects. Therefore, if your house or workplace is covered with carpet, you ought to maintain it. But when it comes to cleaning the same carpets, most people start sweating. There is no doubt about the fact that carpet cleaning in Paddington is the most tedious task out of all the cleaning procedure. When it comes to the end of lease cleaning, it becomes a grave concern for everyone who is hoping to get their bond money back after the deal ends. It's completely understandable because cleaning and maintaining carpets is no cakewalk. However, carpet cleaning in Lutwyche cannot be completed with the desired efficiency if carried out in a hurry. Precisely for this reason, the demand for companies like us has exponentially grown in the last few years.
Here at Yours Bond Cleaning, we have been the most preferred service provider of carpet cleaning in Woolloongabba to most of the homeowners as well as the commercial zones. We take pride in the fact that over the years we have consistently delivered a combination of skilled and thorough service which is quite hard to find in the recent time. By employing state of the art technology with highly professional cleaners, we have made ourselves capable of providing deep-down suction and steam cleaning to eliminate even the most stubborn stains from the carpets to give it a finish that's as good as new.
A sense of trust will develop in you as soon as you meet our professionals. They employ safest techniques and use the cleaning products manufactured by the most renowned brand in the market to ensure that your carpet gets its lush back. Our services of commercial carpet cleaning in Brisbane include a complete sanitisation process that helps in eradicating the insects.
Steps we follow
Resolving complications and providing practical solutions have always been our forte. We support the RTA recommended procedures for carrying out our cleaning process. We follow three simple steps for the cleaning process:
At the very first stage, our specialist team vacuum the carpet thoroughly.
To wear out the dirt and debris, our team conducts a powerful pre-spray treatment.
At the final step, we intensely scrub and apply steam on the carpets to remove the stains and dirt.
We recommend you to not step on the carpet for two to three hours once the cleaning is done for getting the best results.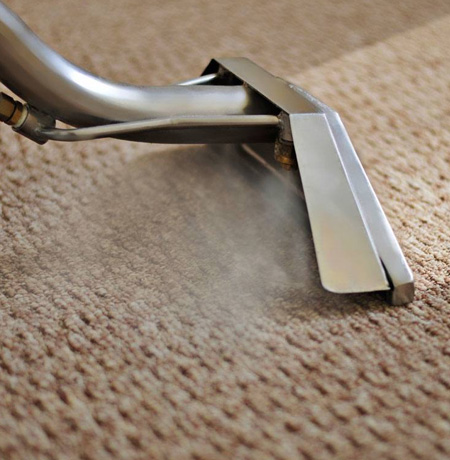 Steam Carpet Cleaning – Our Speciality
Over the time, the carpet fabric is sure to get damaged no matter how much you try to keep it free from the dirt particles. However, the steam rug cleaning in Brisbane is the breakthrough innovation that contributed to keeping your carpets same as new for years. Yours Bond Cleaning is undoubtedly the best company that offers specialised steam cleaning for your carpet. The successful incorporation of advanced technology in steam cleaning has made sure that you can get the residue-free carpet after every cleaning session.
Why choose us
Convenient, on-time appointments
Prompt drying time
Particular attention to high-traffic areas, odours, stains and spots
Guarantee on complete customer satisfaction
Fair and competitive pricing
No hidden clauses or extra charge
A quick research will let you know that it is us who offer such extensive services of quality carpet cleaning in Brisbane at the most competitive price. Our cleaners have years of experience that they impart to the newbies joining us. Along with the traditional methods, we continuously stress on welcoming the newest technologies so that we end up satisfying our potential clients. We know the importance of hygiene in your house when you have children and pets around. That is why we dedicate ourselves to make your house worth living where your kids can stay free from allergens.
Contact us to get more information on our carpet cleaning service and derive maximum benefits.
Our Northside Service Area:
Our Southside Service Area: